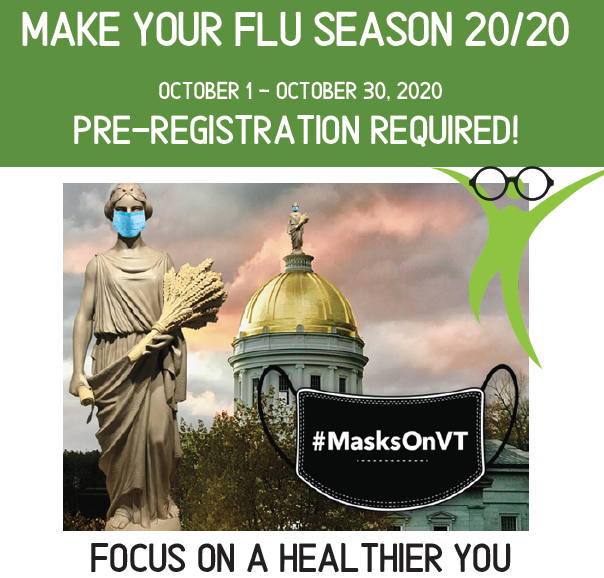 Pre-registration is required; NO WALK-INS.
Face masks are required at all clinics. If you cannot wear a mask due to a medical/other reason, we respectfully request that you do not attend.
Flu shots are 100% covered by BCBSVT at your local pharmacy/primary provider.
High dose quadrivalent flu shots are also available for those 65 or over.  
Or by phone at: 1-855-Flu-Fite (358-3483) 
M-F: 8 AM – 4:30 PM 
Directions to State of Vermont Flu Clinics
Changes to the 2020 Flu Clinics:
COVID-19 has led to the closure of most State Buildings. With the extension of the Stay Home, Stay Safe order through December, the schedule and locations for the 2020 flu clinics has been adjusted. AOT garages and buildings throughout the State will be the primary locations for these clinics. We will do our best to accommodate all employees wanting a shot. However, certain COVID restrictions and preventive measures will limit capacity. Clinics will be open to all active and temporary state employees. Contractors and dependents are not eligible to attend these clinics. Due to COVID-19 restrictions, retirees will also not be allowed to attend.
 
There is currently no vaccine against COVID-19 and very limited treatments. Because of that, it is even more important than ever to get yourself and those you love vaccinated against flu. If you cannot get an appointment or would prefer not to attend a state clinic, please see below.
Employees have other options to get a shot:
Employees with State of VT health insurance can go to any pharmacy that takes Express Scripts (the State's pharmacy vendor) and the flu shot is 100% covered.  Flu shots for retirees are also 100% covered by Medicare. Many pharmacies are offering appointments to avoid lines.  If the pharmacy is not one they normally use, they should bring their Express Scripts card.
Employees can also contact their primary provider.  Although the shot is 100% covered, some providers charge for the administration of it which would kick in the copay or deductible. If an employee decides to go that route, he/she should ask about that before going.
If employees have no insurance, the Department of Health will have flu shots available for the uninsured at their District Offices. The list of locations and contact info can be found at: https://www.healthvermont.gov/local
Employees who have their health insurance with a company/organization, other than BCBSVT with the State, are most probably covered as well. If they are not sure, they should contact that company/organization to verify coverage.