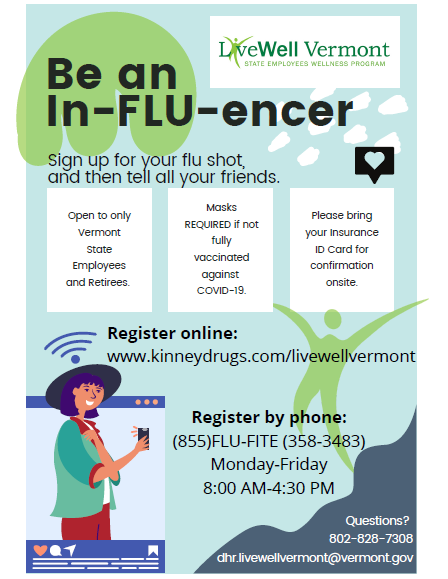 2021 Flu Vaccination Consent Form
Directions to State of Vermont Flu Clinics
Pre-registration is strongly recommended!
Quadrivalent and High-Dose Quadrivalent Influenza Vaccine for employees >65 will be available
Clinics are open to:
All active permanent, retired, and temporary VT state employees
Employees of the VSEA, Arts Council, Historical Society and Sheriffs and State's Attorney
Contracted and agency employees who work at the VPCH only
Not eligible: teachers, spouses, dependents, agency employees, and contractors (other than VPCH)
To register, go to: www.kinneydrugs.com/livewellvermont
Select your desired location
Select the available date
Choose your time
Complete the registration form and click "Complete Appointment"
Download and complete your consent form. Please bring your completed form to your appointment.
If you want to add the appointment to your calendar you can do so from your confirmation email. 
If you do not have computer access, you can register by phone at: 
1-855-Flu-Fite (358-3483)
M-F: 8 AM – 4:30 PM