Careers
Explore Meaningful and Rewarding Careers at the State of Vermont!
External Career Site
Who Should Use the External Career Site?
Temporary Employees at the State of Vermont
Employees in state government who are not part of the Executive Branch (Judiciary, Legislative, etc.)
External Candidates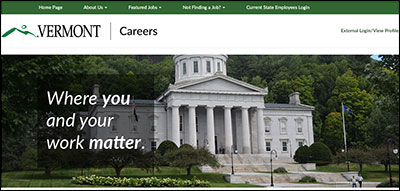 External applicants enter here to search and apply online for job openings that match your skills and goals.
The new website is careers.vermont.gov. You can bookmark it for direct access.
Internal Career Site
Who Should Use the Internal Career Site?
State Employees in the Executive Branch:
Classified
Exempt
Interim
Limited Service

Current employees can now use our new Career Site, SuccessFactors, to search and apply for jobs online. If you are logging in to the new system for the first time, please select the 'First Time Login' link. Otherwise, you can just click the 'Login' link.