Incentive Program
Earn extra money in your paycheck each quarter by participating in the wellness program!
Learn more about the VT State Employee and Retiree Incentive Program.
Learn more about our LiveWell Vermont Corporate Challenges and BCBSVT Sponsored Challenges.
Wellness Coaching
We cover all areas of Wellness! See these resources about caring for each sphere of your wellness.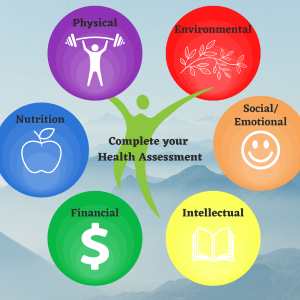 Wellness coaching is offered at no charge to all State employees and to Retirees, based on scheduling and staffing availability. The Wellness coaches are your LiveWell Vermont staff who have gone through extensive training in this area. They can assist you in connecting the dots between who you are and who you want to be. They help you define what "wellness" means to you. They will work with you to identify areas of focus and support you in making behavioral changes that will enable you to succeed.
The Coaching Process allows up to 10 sessions and is done telephonically. Sessions typically run 20 to 30 minutes but we can be flexible! Ideally, for sessions 1-3 we meet weekly. The remaining sessions depend on your individual progress.
Wellness coaches will support you in reaching your optimal level of wellness through skills and strategies you can apply independently going forward! 
If you have questions or would like to sign up for coaching, please email DHR.LiveWellVermont@vermont.gov or call 802-828-7308. 
Workshops, Presentations, Retreats (Online or onsite) 
Whether it's a staff meeting, retreat, employee appreciation day or a stand-alone event you are planning, LiveWell Vermont is happy to work with your department to deliver customized workshops to meet your needs. We can cover a variety of topics or focus on a specific wellness element you wish to improve! Classes can also involve some gentle movement and/or group discussion. Due to COVID restrictions, onsite programs are suspended BUT we can do anything virtually that we did onsite!
Ultimately, workshops/presentations are designed to support all participants in identifying and reaching their health and wellness goals. Please see our full list of current prepared presentations.  If you wish to request a customized presentation, please contact the LiveWell Team by calling: 802-828-7308 or by emailing: DHR.LiveWellVermont@vermont.gov. Submit your Presentation Request Form by emailing it to DHR.LiveWellVermont@vermont.gov. 
Become a Wellness Ambassador!
Are you an active State Employee who is passionate about health and wellness?  Would you like to help create and support a healthier work culture for yourself and your coworkers.  If so, then this is the opportunity for you!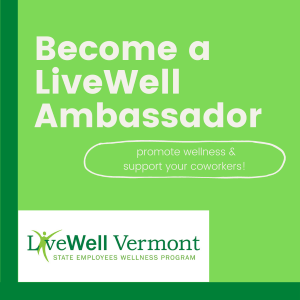 Volunteer to be a Wellness Ambassador for your worksite! Whether you are working remotely or onsite, you will be the face of Wellness for your coworkers! In terms of time commitment, you can commit as many minutes/ hours/days as you want and certainly based on your job duties and schedules.  
Your involvement could be as little as forwarding on Wellness-related emails/communications to the employees with whom you work. They are more likely to open an email from you than possibly a general email that goes out from us.  Some Ambassadors are very involved and do things like creating a wellness board at the worksite (or virtually!), sponsoring a healthy potluck (could be virtual as well), encouraging employees to take breaks, eat lunch  (not at the computer, maybe schedule a lunch walk, even if people are remote.  Or, you can just make a check in with coworkers, in person or virtually, with a positive note or message, to brighten their day. The possibilities are endless! 
We hope you will take Wellness to heart in whatever that means for you and be the best example of it for your coworkers!  Just making yourself available to field questions about the portal or program would be fantastic. Remember, you can always reach out to us with questions or you can always refer your employees directly to us. We are always happy to help!  We appreciate whatever you can give us.
Check out the: Wellness Ambassador: How to be a Great One! with some suggestions for you. These ideas can be reinterpreted for a remote or virtual setting, using emails, calendar invites or Teams. 
To become a Wellness Ambassador for your worksite, send us an email! 
Events
To access our NEW Events Calendar, click here.
Social Media
LiveWell State Employee Healthy Recipe Books
Announcing the Winter 2022 Employee Cookbook!

Enjoy delicious recipes submitted by state employees in 2021!
See previous editions below for even more great recipes: