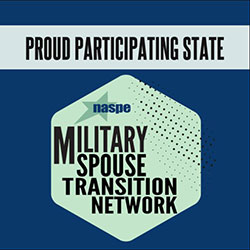 Why the need?
Military spouses change duty stations, moving across the country approximately every three years. This has a major impact on their careers and their ability to provide financial support to their family. The result is that most working military spouses are forced to either take minimum-wage jobs that do not have long-term career options (e.g. retail, service, etc.) or start from the bottom in their chosen career field each time they move.
Program Overview
The program, open to all identified military spouses working for state government agencies in NASPE member states, activates when a military spouse/state employee who receives notification of a Permanent Change of Station (PCS) for their spouse contacts a designated NASPE representative in their home state (i.e., the state from which the spouse is moving). The program delivers career services products such as resume building, skills translation, informal contacts, etc. in support of military spouse re-employment.
For more information contact: Bill Meirs, Talent Acquisition Manager, Vermont Department of Human Resources.
Home state is responsible to:
Conduct an intake meeting with transitioning military spouse to help with resume, interview skills and identify jobs of interest/skill match

Make initial contact with receiving state point of contact to share name, resume and contact information of transitioning military spouse
Receiving state is responsible to:
Conduct initial meeting with transitioning military spouse to review resume and identify how their skillset translates into their state's classification system

Make connections for informal interviews with specific hiring managers that can explain jobs related to the military spouse's background

Any other support that would help the military spouse navigate their state's recruitment process
 View a list of participating states and their contact information​